ATV insurance
It is easy to get an ATV policy ? The quads are peculiar vehicles with very special characteristics and needs.
Acquiring an insurance for ATV has always been a sensitive issue. It can be said that security and the quads have a controversial relationship, but with us you can calculate the policy for your ATV , any motorcycle or moped.
In principle, a four-wheel-drive, should be more stable than a two-wheeled vehicle, but in practice the quads tend to overturn if the driver does not have enough experience.
They provide a false sense of stability and it is really easy to get excited and skid. The quads are very heavy vehicles that once lose their balance, require the pilot to know very well what he does. Do not be fooled, the ATV is among the different types of motorcycles with worst fame has in terms of safety, which makes it makes it difficult to search and hire a good insurance.
If something makes the bikers great is their dedication to defending their passions. A constructive rebellion, so to speak. Before this vehicle was considered more seriously, on the past obtaining insurance for an ATV required heavy management, but it is becoming easier on calculating and getting an ATV policy can be comparable to doing it for a motorcycle.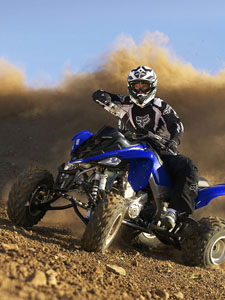 Comprehensive
In most circumstances, full ATV insurance coverage pays for damage to your ATV if it is caused by an event other than a collision. For example, if the ATV is damaged by a fire, theft, vandalism, flood, or an animal, all-risk coverage is likely to apply. Only the selected deductible is paid, and your ATV insurance will cover the rest.
Auto liability coverage offers protection for any vehicle owned or leased commercial businesses. The policies usually include collision and damage coverage, as well as the coverage of material and personal damages to third parties.
Without insurance / insufficient insurance motorist / Uninsured Motorist
If the person who's at blame on a accident does not have insurance - or does not have enough insurance Uninsured motorist bodily injury will pay for the damages suffered by the guilty party is legally responsible, such as medical treatment and lost wages. You only have to select the amount of ATV insurance coverage you want and that is protected up to those limits.